What Inspired Me to Help People Cross Back to Health?
I believe in health. In my private practice as an Internist, I found that many people were commonly frustrated with chronic and exhausting symptoms like fatigue, "brain fog", depression, muscle aches, poor sleep, gastrointestinal symptoms, headaches, and so on, which adversely impacted their quality of life. The typical labs weren't helpful in making a diagnosis, and pharmaceuticals only gave partial solutions by reducing the symptoms but not fully healing patients. I felt inadequate as a doctor despite being a highly trained and board certified Internal Medicine Physician. Clearly, I needed to find a new way to help and heal my patients. This was not part of my training as a doctor but that didn't mean I couldn't do my own research and find the answers by myself.
I believe in family. I became a mom, which changed my life forever. My son Alex was developmentally delayed and eventually diagnosed with severe Intellectual Disability and Autism. He had a great impact on my life and on the way I see medicine, and for that I will always be grateful. During the early days of his life, I was offered therapy and antipsychotic medications to sedate him, but no one addressed the many medical challenges that he was facing – some of which were the worst I had seen in my entire career. I was disappointed and frustrated but I realized that it was up to me to find a way to help my own child. That was the turning point of my professional career. I began reading books and attending conferences about holistic medicine. I wondered why nutrition and vitamin supplements weren't and integral part of my practice when they are considered essential for our bodies. I soon found that they are a very powerful tool that was missing from the treatments I provided.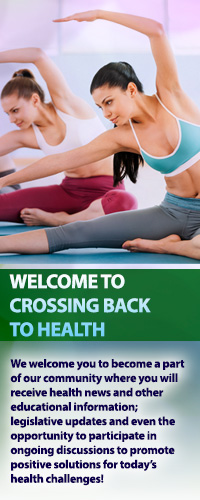 My research continued and I became aware of other tools (herbal, homeopathic, detoxification, biomedical, acupuncture, bio-energetic healing) that I could use to help my son and my patients at Crossing Back to Health. The more I learned the more effective the treatments became. I had finally found a way to improve my son and patients' health.
I became a mom a second time when I adopted my daughter from China. She was 11 months old and she was given 6 vaccines before leaving China. Once she arrived home, my doctor gave her the same 6 vaccines because she didn't trust the previous doses. She received 12 vaccines in 3 days, and as a result her blood lead level marked 38, anything over 10 is considered toxic. That's when she stopped saying words and trying to talk. I had learned a lot through my journey with Al, so I was able to naturally and successfully detoxify Libby's body. I am grateful that she is happy and healthy today, all because of functional medicine.
I believe that we can learn a great deal from our life struggles, and hopefully contribute to making our world a better place. The love for my son made me take the first step and guided me to develop a unique method (link to our comprehensive approach) that has proven to be a highly effective treatment strategy. In my functional medicine clinic, this way of healing has resulted in a remarkable return to health for many patients as well as recovery of many children with autism. Visit my section on Austism
This is only the beginning for me. I continue to forge my expertise into functional medicine and to search for healthy alternatives to standard treatments so that I can give my patients the quality of life that they deserve.