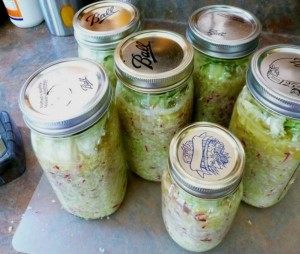 Fermented Foods like Sauerkraut are great for building a healthy gut. 
Don't forget to sterilize jars by boiling them in water for at least 10 minutes prior to filling the jars. Washing them in hot water is not enough. Take the jars out 
one by one to fill them. For more information on how to safely sterilize go to:  http://nchfp.uga.edu/publications/nchfp/factsheets/sterilizing.html

Give it a try and let us know what how you like it.
This would be a nice activity with your kids and benefits your tastebuds AND your tummy by providing healthy bacteria – naturally.  I'm going to make this with my daughter.
Try it out and please give us feedback on this recipe.